"The Library is the Temple of Learning"
– Carl T. Rowan .
Department Of Librarian
Central Library

To ensure active involvement of the students and teachers in enhancing the teaching-learning process we have introduced   LIBRARY INDUCTION CLASSES at the beginning of the session for the first year students, so that they are well aware of the services and new initiatives.

We are no less active in fetching resources from possible sources for enriching our collection, be it on a virtual platform. We are an institutional member of the British Council library. We have access to online resources under NME-ICT, INFLIBNET- NLIST. We have started automation with KOHA. We want to gradually implement the facilities for users with KOHA, which has multiple applications as an interactive platform. We are organizing orientation and motivation programmes to communicate about library services and activities. We adopt extension and outreach activities to involve faculty and students in social sensitization, emotional wellbeing, soft skill enhancement, community involvement and inclusion,cultural exchange and special emphasis on environmental protection and awareness. Different innovative techniques are initiated for maximum involvement of students and boost up interest in learning.
Library Facility :
We aspire to create a more dynamic teaching –learning environment in library.
Central Library of the college has sufficient books of all Department.
N-List access, e-resource & other Digital Access.
LCD T.V set, projector and smart classroom is deployed for different library programmes and activities.
E-Resources
Quality of Service for students:
Our library is an essential support service in giving quality service to the users.
That every student of this college is a member of the library is our motto.
That every student gets satisfied with his demands is what we work for.
That the teaching and learning process is seamless with the support of the resources and innovative services are what we aim at.
Quality of service with possible inclusion of technology for speeding up the library management and diminishing the queue time for the users is what we are trying to achieve.
Syllabus
Head of Dept :
Name: Dr. Suchismita Majumdar
Designation: Librarian, Sir Gurudas Mahavidyalaya, Kolkata
Email: librarianlibrarykolkata@gmail.com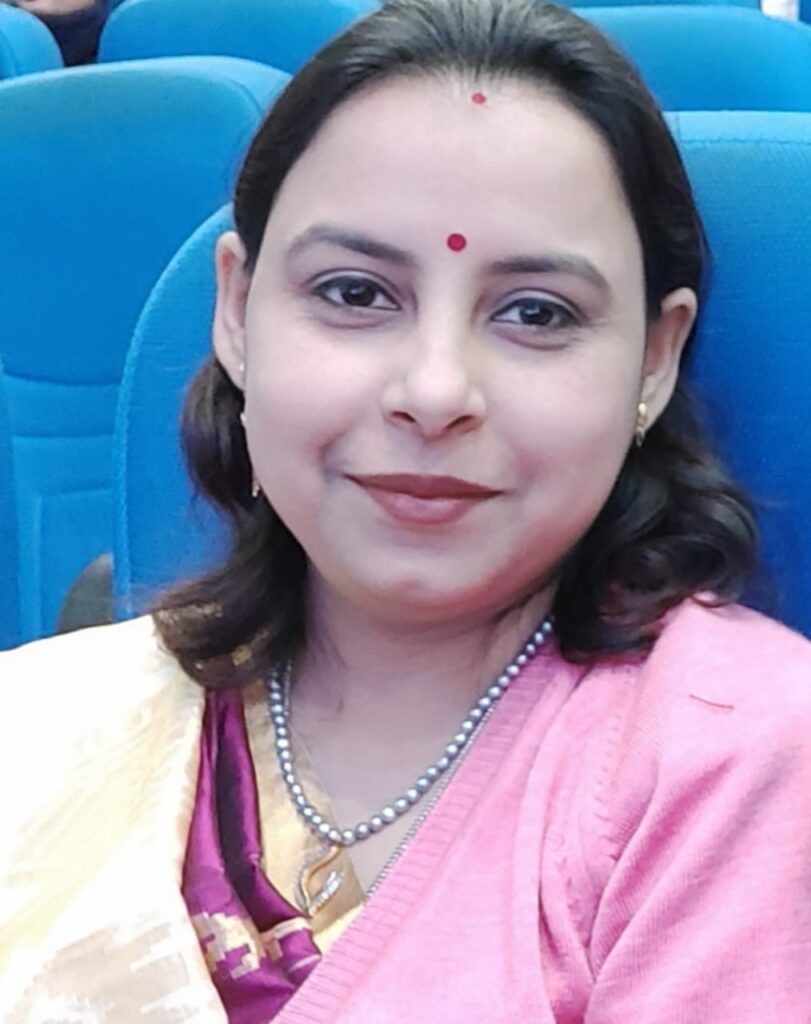 View Profile
E-Resources
Library Facility :
Inter Disciplinary Activity
Central Library of the college has sufficient books of all Department.
N-List access, e-resource & other Digital Access.
We aspire to create a more dynamic teaching –learning environment in library.
LCD T.V set, projector and smart classroom is deployed for different library programmes and activities.
Newer editions of books are being added every year in order to satisfy the students: book ratio for effective curricular Supplementation
Providing book lending facility at par with the requirement of the students
Special scopes for accessing resources for the PH students, regular readers, inquisitive learners
Procuring resources after careful consideration of the students' requirements
Separate collection for Remedial coaching scheme
Separate collection for entry into services scheme
Providing OPAC and internet facilities
Institutional Memberships to renowned libraries for accessing resources
E- resource subscription under INFLIBNET-NLIST programme
Subscription to periodicals for scholarly content as well as a support for competitive examinations
Library clearance is not compulsory before part I and Part II examination
Unlimited scope for renewing books throughout the session
Resources are regularly processed for quick availability after purchase
Regular survey and interaction with the students to identify their requirements
Holding book exhibition, book fair and display of new arrivals
Library extension activities in the form of Library awareness programme
Encouraging the students to participate in library activities and to be actively involved with the library resources
Library goes hand in hand with N.S.S team to build up a habit of reading and promoting library awareness
Developing Posters/Presentations to foster reading habit
Informal inculcation of reading habit in the form of literary circle, adopt-a-book, friends of the library scheme
Initiation of the newsletter to publicize the library activities such as events related to promotion and use of library, encouraging the readers and ensuring the use of books
Special emphasis on providing information about career prospects, job previews and current awareness through the newsletter
An interactive platform for the students in the form of the column introduced in the newsletter as "Students Corner"
TRIUMPH-the scholars' club is a recent introduction to encourage a tempo for academic performance
Regular interactions with the parents
Spoken English Initiative taken along with the department of English as a part of developing soft skill
Separate reading zone for Students.
Reading zone for Faculty and Staff with Virtual Classroom/Communication Facility.
Permanent display/exhibition area
Research zone/Research Cell.
Audio Visual section.
Extension of Online Access Zone.
Leisure and Hobby Zone.
Library Automation with RFID Technology.
MOPAC(OPAC on MobilePhones)
Institutional Repository/Digital Library with Greenstone/Dspace
Building of E- book resources with Kindle
Online access to NLIST/E-Resource Access through website.
WEB-OPAC.
E-Feedback of students.
Web Conferencing.
Extension of Stack Area.
Hathi Trust Digital Library.
National Digital Library.
Benthan Open Access -e-journals
Springer Open Access e-journal
HIGH-WIRE Free Online Full Text Articles
Directory Of Open Access Journals.
The central library of the college has over 15000 subject books. Click Here for Details of Central Library
A library holds the key responsibility to cater to the needs of the students. Necessary support in the form of academic requirements such as resources for curricular supplementation. However orientation, motivation, social sensitization of students both from the academic and psycho-social perspectives is another noteworthy support which builds up the student into a self sufficient, confident and socially responsible human being. Being a mentor for developing the soft skills as well as indicating to career and job prospects or assisting  student progression is a vital issue a library can take care of.
Previous Link :
| | | | | | |
| --- | --- | --- | --- | --- | --- |
| Year/Sem | Stream | Current semester/ year | Department | Subject code( e.g. cc/Ge) | Link |
| ODD SEM 2021 | BA(H) | Sem3 | Beng | CC6 | Download |
| ODD SEM 2021 | BA(H) | Sem 5 | Beng | CC12 | Download |
| ODD SEM 2021 | BA(H) | Sem3 | Beng | CC5 | Download |
| ODD SEM 2021 | BA(H) | Sem 5 | Beng | CC11 | Download |
| ODD SEM 2021 | BA(H) | Sem3 | Beng | CC7 | Download |
| ODD SEM 2021 | BA(H) | Sem 5 | Beng | DSE A | Download |
| ODD SEM 2021 | BA(G) | Sem 5 | Beng | DSE A | Download |
| ODD SEM 2021 | BA(G) | Sem 5 | Beng | DSE A2 | Download |
| ODD SEM 2021 | BA(G) | Sem 5 | Beng | DSE A1 | Download |
| ODD SEM 2021 | BA(H) | Sem 5 | Beng | DSE B1 | Download |
| ODD SEM 2021 | BA(H) | Sem 5 | Beng | DSE B2 | Download |
| ODD SEM 2021 | BA(G) | Sem3 | Beng | SEC A1 | Download |
| ODD SEM 2021 | BA(G) | Sem3 | Beng | SEC A2 | Download |
| ODD SEM 2021 | BA(H) | Sem3 | Beng | SEC A1 | Download |
| ODD SEM 2021 | BA(H) | Sem3 | Beng | SEC A2 | Download |
| ODD SEM 2021 | BA(G) | Sem 5 | Beng | SEC A1 | Download |
| ODD SEM 2021 | BA(G) | Sem 5 | Beng | SEC A2 | Download |
| ODD SEM 2021 | BA(G) | Sem3 | Beng | CC3/GE3 | Download |
| ODD SEM 2021 | BA(H) | Sem 1 | Beng | CC1 | Download |
| ODD SEM 2021 | BA(H) | Sem 1 | Beng | CC2 | Download |
| ODD SEM 2021 | BA(G) | Sem 1 | Beng | CC1/GE1 | Download |
| ODD SEM 2021 | BA(H) | Sem 1 | Beng | AECC1 | Download |
| ODD SEM 2021 | BSC(H) | Sem 1 | Beng | AECC1 | Download |
| ODD SEM 2021 | BSc(G) | Sem 5 | Chem | DSE A2 | Download |
| ODD SEM 2021 | BSc(G) | Sem 5 | Chem | DSE A2 | Download |
| ODD SEM 2021 | BSc(G) | Sem3 | Chem | SEC A1 | Download |
| ODD SEM 2021 | BSc(G) | Sem3 | Chem | CC3/GE3 | Download |
| ODD SEM 2021 | BSc(G) | Sem 1 | Chem | CC1/GE1 | Download |
| ODD SEM 2021 | BCom(G) | Sem3 | Commerce | Other | Download |
| ODD SEM 2021 | BCom(H) | Sem 5 | Commerce | Other | Download |
| ODD SEM 2021 | BCom(H) | Sem 1 | Commerce | CC1/GE1 | Download |
| ODD SEM 2021 | BCom(G) | Sem 1 | Commerce | CC1/GE1 | Download |
| ODD SEM 2021 | BSc(G) | Sem 1 | Cs | CC1 | Download |
| ODD SEM 2021 | BSc(G) | Sem 5 | Cs | DSE A2 | Download |
| ODD SEM 2021 | BSc(G) | Sem 5 | Cs | DSE A3 | Download |
| ODD SEM 2021 | BSc(G) | Sem 5 | Cs | SEC A1 | Download |
| ODD SEM 2021 | BSc(G) | Sem 5 | Cs | SEC A2 | Download |
| ODD SEM 2021 | BSc(G) | Sem3 | Cs | CC3/GE3 | Download |
| ODD SEM 2021 | BSc(G) | Sem3 | Cs | SEC A1 | Download |
| ODD SEM 2021 | BSc(G) | Sem3 | Cs | SEC A2 | Download |
| ODD SEM 2021 | BSC(H) | Sem 1 | Cs | CC2 | Download |
| ODD SEM 2021 | BSC(H) | Sem 5 | Cs | CC11 | Download |
| ODD SEM 2021 | BSC(H) | Sem 5 | Cs | CC12 | Download |
| ODD SEM 2021 | BSC(H) | Sem 5 | Cs | DSE A1 | Download |
| ODD SEM 2021 | BSC(H) | Sem 5 | Cs | DSE A2 | Download |
| ODD SEM 2021 | BSC(H) | Sem 5 | Cs | DSE B1 | Download |
| ODD SEM 2021 | BSC(H) | Sem 5 | Cs | DSE B2 | Download |
| ODD SEM 2021 | BSC(H) | Sem3 | Cs | CC5 | Download |
| ODD SEM 2021 | BSC(H) | Sem3 | Cs | CC6 | Download |
| ODD SEM 2021 | BSC(H) | Sem3 | Cs | CC7 | Download |
| ODD SEM 2021 | BSC(H) | Sem3 | Cs | SEC A1 | Download |
| ODD SEM 2021 | BSC(H) | Sem3 | Cs | SEC A2 | Download |
| ODD SEM 2021 | BA(G) | Sem 5 | Eco | DSE A1 | Download |
| ODD SEM 2021 | BA(G) | Sem3 | Eco | CC3/GE3 | Download |
| ODD SEM 2021 | BA(G) | Sem 1 | Eco | CC1/GE1 | Download |
| ODD SEM 2021 | BA(H) | Sem 1 | Edu | CC1 | Download |
| ODD SEM 2021 | BA(H) | Sem 1 | Edu | CC2 | Download |
| ODD SEM 2021 | BA(G) | Sem 1 | Edu | CC1/GE1 | Download |
| ODD SEM 2021 | BA(H) | Sem3 | Edu | CC5 | Download |
| ODD SEM 2021 | BA(H) | Sem3 | Edu | CC6 | Download |
| ODD SEM 2021 | BA(H) | Sem3 | Edu | CC7 | Download |
| ODD SEM 2021 | BA(H) | Sem3 | Edu | SEC A1 | Download |
| ODD SEM 2021 | BA(H) | Sem3 | Edu | SEC A2 | Download |
| ODD SEM 2021 | BA(G) | Sem3 | Edu | CC3/GE3 | Download |
| ODD SEM 2021 | BA(G) | Sem3 | Edu | SEC A1 | Download |
| ODD SEM 2021 | BA(G) | Sem3 | Edu | SEC A2 | Download |
| ODD SEM 2021 | BA(H) | Sem 5 | Edu | CC11 | Download |
| ODD SEM 2021 | BA(H) | Sem 5 | Edu | CC12 | Download |
| ODD SEM 2021 | BA(H) | Sem 5 | Edu | DSE A2 | Download |
| ODD SEM 2021 | BA(H) | Sem 5 | Edu | DSE B1 | Download |
| ODD SEM 2021 | BA(G) | Sem 5 | Edu | SEC A1 | Download |
| ODD SEM 2021 | BA(G) | Sem 5 | Edu | DSE A2 | Download |
| ODD SEM 2021 | BA(H) | Sem 1 | Edu | CC1 | Download |
| ODD SEM 2021 | BA(H) | Sem3 | Eng | CC5 | Download |
| ODD SEM 2021 | BA(H) | Sem3 | Eng | CC6 | Download |
| ODD SEM 2021 | BA(H) | Sem3 | Eng | CC7 | Download |
| ODD SEM 2021 | BA(H) | Sem 5 | Eng | CC11 | Download |
| ODD SEM 2021 | BA(H) | Sem 5 | Eng | CC12 | Download |
| ODD SEM 2021 | BA(H) | Sem 5 | Eng | DSE A1 | Download |
| ODD SEM 2021 | BA(H) | Sem 5 | Eng | DSE A2 | Download |
| ODD SEM 2021 | BA(G) | Sem 5 | Eng | DSE A1 | Download |
| ODD SEM 2021 | BA(G) | Sem 5 | Eng | DSE A2 | Download |
| ODD SEM 2021 | BA(H) | Sem3 | Eng | SEC A2 | Download |
| ODD SEM 2021 | BA(H) | Sem3 | Eng | SEC A1 | Download |
| ODD SEM 2021 | BA(G) | Sem3 | Eng | LCC | Download |
| ODD SEM 2021 | BA(G) | Sem 5 | Eng | LCC | Download |
| ODD SEM 2021 | BA(G) | Sem 5 | Eng | SEC A2 | Download |
| ODD SEM 2021 | BA(H) | Sem 1 | Eng | CC1 | Download |
| ODD SEM 2021 | BA(H) | Sem 1 | Eng | CC2 | Download |
| ODD SEM 2021 | BA(G) | Sem 1 | Eng | CC1/GE1 | Download |
| ODD SEM 2021 | BA(H) | Sem 1 | Eng | AECC1 | Download |
| ODD SEM 2021 | BA(H) | Sem3 | Hist | CC5 | Download |
| ODD SEM 2021 | BA(H) | Sem3 | Hist | CC6 | Download |
| ODD SEM 2021 | BA(H) | Sem 5 | Hist | CC11 | Download |
| ODD SEM 2021 | BA(H) | Sem 5 | Hist | CC12 | Download |
| ODD SEM 2021 | BA(H) | Sem 5 | Hist | DSE A1 | Download |
| ODD SEM 2021 | BA(H) | Sem 5 | Hist | DSE A2 | Download |
| ODD SEM 2021 | BA(H) | Sem3 | Hist | CC7 | Download |
| ODD SEM 2021 | BA(H) | Sem2 | Hist | CC2 | Download |
| ODD SEM 2021 | BA(G) | Sem 1 | Hist | CC1/GE1 | Download |
| ODD SEM 2021 | BA(H) | Sem 1 | Hist | CC1 | Download |
| ODD SEM 2021 | BA(G) | Sem3 | Hist | CC3/GE3 | Download |
| ODD SEM 2021 | BA(H) | Sem3 | Hist | SEC A1 | Download |
| ODD SEM 2021 | BA(G) | Sem3 | Hist | SEC A1 | Download |
| ODD SEM 2021 | BA(G) | Sem3 | Hist | SEC A2 | Download |
| ODD SEM 2021 | BA(H) | Sem 5 | Hist | DSE B1 | Download |
| ODD SEM 2021 | BA(G) | Sem 5 | Hist | SEC A2 | Download |
| ODD SEM 2021 | BA(G) | Sem 5 | Hist | DSE A2 | Download |
| ODD SEM 2021 | BA(H) | Sem2 | Hist | CC3 | Download |
| ODD SEM 2021 | BA(H) | Sem2 | Hist | CC4 | Download |
| ODD SEM 2021 | BA(G) | Sem2 | Hist | CC2/GE2 | Download |
| ODD SEM 2021 | BSC(H) | Sem2 | Math | CC3 | Download |
| ODD SEM 2021 | BSC(H) | Sem2 | Math | CC4 | Download |
| ODD SEM 2021 | BSc(G) | Sem2 | Math | CC2/GE2 | Download |
| ODD SEM 2021 | BSC(H) | Sem3 | Math | CC5 | Download |
| ODD SEM 2021 | BSC(H) | Sem 5 | Math | CC11 | Download |
| ODD SEM 2021 | BSC(H) | Sem3 | Math | CC6 | Download |
| ODD SEM 2021 | BSC(H) | Sem 5 | Math | CC12 | Download |
| ODD SEM 2021 | BSC(H) | Sem3 | Math | CC7 | Download |
| ODD SEM 2021 | BSC(H) | Sem 5 | Math | DSE A3 | Download |
| ODD SEM 2021 | BSC(H) | Sem 5 | Math | DSE A2 | Download |
| ODD SEM 2021 | BSC(H) | Sem 5 | Math | DSE B3 | Download |
| ODD SEM 2021 | BSC(H) | Sem 1 | Math | CC1 | Download |
| ODD SEM 2021 | BSC(H) | Sem 1 | Math | CC2 | Download |
| ODD SEM 2021 | BSc(G) | Sem 1 | Math | CC1/GE1 | Download |
| ODD SEM 2021 | BSc(G) | Sem3 | Math | CC3/GE3 | Download |
| ODD SEM 2021 | BSc(G) | Sem 5 | Math | DSE A1 | Download |
| ODD SEM 2021 | BSc(G) | Sem 5 | Math | DSE A2 | Download |
| ODD SEM 2021 | BSC(H) | Sem3 | Math | SEC A1 | Download |
| ODD SEM 2021 | BSc(G) | Sem3 | Math | SEC A1 | Download |
| ODD SEM 2021 | BSC(H) | Sem 5 | Math | DSE A1 | Download |
| ODD SEM 2021 | BSc(G) | Sem 5 | Math | DSE A1 | Download |
| ODD SEM 2021 | BSC(H) | Sem3 | Phy | CC6 | Download |
| ODD SEM 2021 | BSC(H) | Sem 5 | Phy | CC12 | Download |
| ODD SEM 2021 | BSC(H) | Sem 5 | Phy | CC11 | Download |
| ODD SEM 2021 | BSC(H) | Sem3 | Phy | CC5 | Download |
| ODD SEM 2021 | BSC(H) | Sem3 | Phy | CC7 | Download |
| ODD SEM 2021 | BSC(H) | Sem 5 | Phy | DSE A1 | Download |
| ODD SEM 2021 | BSC(H) | Sem 5 | Phy | DSE A2 | Download |
| ODD SEM 2021 | BSC(H) | Sem 5 | Phy | DSE A1 | Download |
| ODD SEM 2021 | BSC(H) | Sem 5 | Phy | DSE B2 | Download |
| ODD SEM 2021 | BSC(H) | Sem 5 | Phy | DSE B1 | Download |
| ODD SEM 2021 | BSC(H) | Sem 5 | Phy | DSE A2 | Download |
| ODD SEM 2021 | BSc(G) | Sem 5 | Phy | DSE A1 | Download |
| ODD SEM 2021 | BSC(H) | Sem3 | Phy | SEC A2 | Download |
| ODD SEM 2021 | BSC(H) | Sem 5 | Phy | SEC A2 | Download |
| ODD SEM 2021 | BSC(H) | Sem3 | Phy | CC3/GE3 | Download |
| ODD SEM 2021 | BSC(H) | Sem 1 | Phy | CC2 | Download |
| ODD SEM 2021 | BSc(G) | Sem 1 | Phy | CC1/GE1 | Download |
| ODD SEM 2021 | BSC(H) | Sem 1 | Phy | CC1 | Download |
| ODD SEM 2021 | BA(H) | Sem 5 | Polsc | CC12 | Download |
| ODD SEM 2021 | BA(H) | Sem 5 | Polsc | CC11 | Download |
| ODD SEM 2021 | BA(H) | Sem3 | Polsc | CC6 | Download |
| ODD SEM 2021 | BA(H) | Sem3 | Polsc | CC5 | Download |
| ODD SEM 2021 | BA(H) | Sem3 | Polsc | CC7 | Download |
| ODD SEM 2021 | BA(H) | Sem 5 | Polsc | SEC B2 | Download |
| ODD SEM 2021 | BA(G) | Sem 5 | Polsc | DSE A2 | Download |
| ODD SEM 2021 | BA(G) | Sem 5 | Polsc | SEC A2 | Download |
| ODD SEM 2021 | BA(G) | Sem3 | Polsc | SEC A2 | Download |
| ODD SEM 2021 | BA(H) | Sem3 | Polsc | SEC A2 | Download |
| ODD SEM 2021 | BA(G) | Sem3 | Polsc | CC3/GE3 | Download |
| ODD SEM 2021 | BA(H) | Sem 1 | Polsc | CC1 | Download |
| ODD SEM 2021 | BA(H) | Sem 1 | Polsc | CC2 | Download |
| ODD SEM 2021 | BA(G) | Sem 1 | Polsc | CC1/GE1 | Download |
| ODD SEM 2021 | BA(H) | Sem3 | Sans | CC5 | Download |
| ODD SEM 2021 | BA(H) | Sem3 | Sans | CC6 | Download |
| ODD SEM 2021 | BA(H) | Sem3 | Sans | CC7 | Download |
| ODD SEM 2021 | BA(H) | Sem 5 | Sans | CC11 | Download |
| ODD SEM 2021 | BA(H) | Sem 5 | Sans | CC12 | Download |
| ODD SEM 2021 | BA(H) | Sem 5 | Sans | DSE A1 | Download |
| ODD SEM 2021 | BA(G) | Sem 5 | Sans | DSE A1 | Download |
| ODD SEM 2021 | BA(G) | Sem 5 | Sans | DSE A2 | Download |
| ODD SEM 2021 | BA(H) | Sem3 | Sans | CC7 | Download |
| ODD SEM 2021 | BA(H) | Sem 1 | Sans | CC1 | Download |
| ODD SEM 2021 | BA(H) | Sem 1 | Sans | CC2 | Download |
| ODD SEM 2021 | BA(G) | Sem 1 | Sans | CC1/GE1 | Download |
| ODD SEM 2021 | BA(H) | Sem2 | Sans | CC3 | Download |
| ODD SEM 2021 | BA(H) | Sem2 | Sans | CC4 | Download |
| ODD SEM 2021 | BCom(G) | Sem 1 | Commerce | CC11 | Download |
| ODD SEM 2021 | BCom(H) | Sem 5 | Commerce | DSE A1 | Download |
| ODD SEM 2021 | BCom(H) | Sem 5 | Commerce | Other | Download |