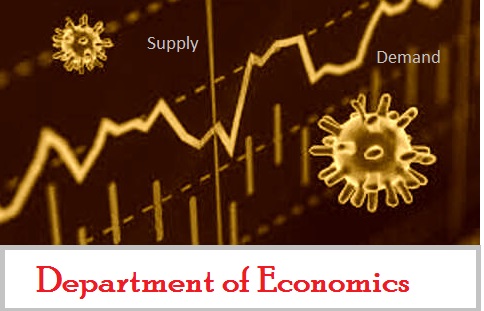 Department Of Economics
Missions :
We are a department of Economics within the College of Arts and Sciences. We offer degree  programs at Bachelor's level. Our department strives to:
Provide a current, comprehensive, and collaborative student-centered learning environment for Economics and professional values associated with the discipline
Advance a client-centered environment that addresses the computing needs of students, the profession, and community at large
Prepare students for professional careers or advanced studies in Mathematics
Pursue opportunities for faculty and students to contribute to interdisciplinary efforts
Promote the discovery, dissemination and application of computing knowledge
Foster personal and professional growth for all students and faculty.
Vision :
The Department of Economics (Gen) will continue to be the department of choice for students seeking high-quality graduate degree programs in Economics. The Department will be recognized across the nation and the global community for education that produces diverse & versatile professionals. Graduates from our department will be able to -
Conceptualize, analyze, design, implement, and evaluate a computerized solution to a real life problem using appropriate tools;
Work effectively as a team member;
Enter a professional mathematics position or enter an appropriate graduate program;
Communicate effectively through speaking, writing, and the use of presentation tools;
Adapt to technological changes and innovations in the discipline;
Be aware of ethical and societal concerns relating to mathematics in society and to be able to apply this knowledge in the conduct of their careers.
Name
Prof.Jayed Ali Laskar
Designation
 CWTT
Qualification
M. A
Contact No
8910420089
E-mail id
jayedali90@gmail.com
View Profile
Economica can be taken as General Subject with other arts subjects.
Presently students can access Google Classroom Study Material with the various doc, pdf, ppt & youtube/video links. Further updates reflect here.
Previous Question :
Updated Link( At Library Section )